You've probably heard a lot about WordPress lately. So, what is WordPress anyway?
WordPress is the world's most popular tool for creating websites. WordPress is capable of creating any style of website, from a simple blog to a full-featured business website. You can even use WordPress to create an online store (using the popular WooCommerce plugin).
You say you've never built a website? That's not a problem! With WordPress, you don't need any coding or design skills to create a professional-looking site. There are thousands of free site designs to choose from (these are known as "themes" in the WordPress world).
With WordPress, it's easy to build your website without writing a single line of code or knowing anything about HTML.
How To Get WordPress
Unlike traditional desktop software, WordPress runs online (in the cloud, so to speak). There's nothing to install on your computer, and you don't need any special tools. You can update your website from anywhere that you have an Internet connection – even your smartphone. There are even free WordPress mobile apps for iPhones and Android phones.
WordPress is Free
Here's the best part: WordPress is free. It's both free to use and free to modify. So, if you are the sort of person who likes to tinker with code, you can dig in and make WordPress do just about anything you want it to do.
Unlike other "free" website tools, WordPress does not lock you into some proprietary service like Wix, Weebly, or Squarespace. You can host your website anywhere. Or move your site to another hosting service anytime you like.
Two Ways to Use WordPress
There are a couple of different ways to host your WordPress website:
WordPress.com is the hosted version. That means your website runs on the official WordPress servers. You can go there right now and create a website for free in just a few minutes.
There are a few limitations to WordPress.com. You won't have access to all of the thousands of themes that are available. And you can't use WordPress plugins (those are mini-programs that add special features to your website). There's also a small fee if you want to use your own domain name.
As I said, there's no lock-in with WordPress. If you decide you like WordPress and want to take full advantage of everything it has to offer, you can easily move your site later.
WordPress.org is the self-hosted version. This is what you'll use if you want to run WordPress on your own web hosting account. When you use this version, you have complete control over the design and functionality of your website.
Check this video tutorial for a deeper analysis of choosing WordPress.com vs. WordPress.org.
There's a reason why more than 30% of all websites are built with WordPress. Take a look at the WordPress Showcase, and you'll see everyone from The New York Times Company to The Rolling Stonesusing WordPress.
Getting Support for WordPress
Thanks to its vast open source community, there are plenty of places to get WordPress help when you need it. Both WordPress.org and WordPress.com offer support forums. And independent training websites (like WP Apprentice) also provide support to members. And, of course, there are hundreds of WordPress books to guide you on your WordPress journey.
Learn WordPress for Free
Now that you know more about WordPress, why not signup for the free WordPress course. Our video tutorials will teach you the basics of WordPress in about an hour. You'll be creating web pages like a pro in no time. When you're ready to expand your knowledge, we offer a beginner-friendly WordPress tutorial for every challenge you're likely to face.
---
WordPress is currently the most popular content management system (CMS) in the world. WordPress powers more than 30% of the websites around the world — and it's rapidly growing!
Overall, a content management system is a web application that allows website owners, editors, and authors to manage their website and publish content without any programming knowledge.
WordPress uses PHP and MySQL, which is supported by nearly all web hosts. But a specialized WordPress hosting plan can give you the edge in terms of speed, performance, and reliability.
Usually, CMSes are used for blogging, but a WordPress site can easily be turned into e-commerce store, portfolio, newspaper website or anything else your heart desires.
One of the best things about WordPress is that it comes with an intuitive and user-friendly interface. If you know how to use Microsoft Word you don't need to worry about WordPress; you will be able to create and publish content just as easily!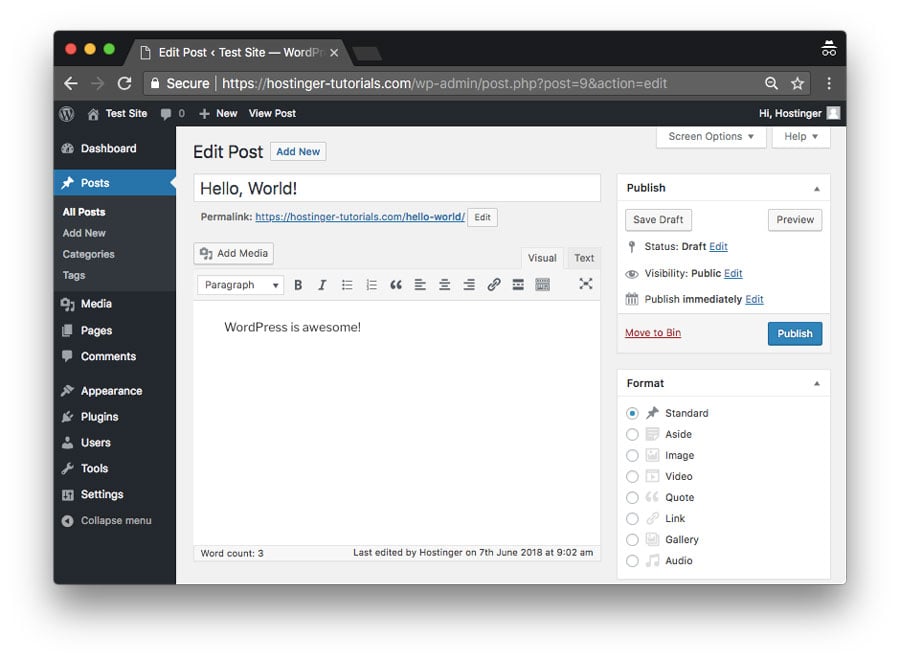 The best part is that WordPress is open-source and free for everyone to use. In fact, it allows millions of people around the world to have a high-quality, modern website — even for the smallest players.
WordPress History
The journey of WordPress started in 2003 when two developers, Matt Mullenweg and Mike Little, began to build a new blogging platform on top of a discontinued software called b2/cafeblog. Shortly after that project was abandoned, they decided to fork it and continue the development on their own terms.
They released the first version of WordPress (WordPress 1.0) in January 2004. It looked quite different from the feature-rich content management system that these days we know as WordPress. However, it already had most of the core features we still use today, such as the WordPress editor, a simple installation process, pretty permalinks, a user management system, comment moderation capabilities, and others.
Since 2004, WordPress has gone through an incredible transformation. Nowadays, the WordPress project is developed, managed, and maintained by a dedicated open-source community of thousands of worldwide members. They work remotely, many of them as volunteers, and meet in person at WordPress' distributed conference called WordCamp. WordPress is still rapidly growing and a new version is released every 2 or 3 months. Each version adds new features and security updates to the platform.
Difference between WordPress.org and WordPress.com
When you look up WordPress in Google or another search engine, you will find two related websites: WordPress.com and WordPress.org. First, this can be confusing, however, both sites have their own purpose and user base.
WordPress.org
WordPress.org is the website you need if you want to run a self-hosted WordPress site. Here, you can download the platform and find a plethora of free plugins and themes. To host your own website, you also need to register a domain and sign up for a web hosting plan.
WordPress uses PHP and MySQL to run, which is something that all web hosts support. However, there are also specialized WordPress hosting plans which are based on a hosting environment specifically optimized for the best performance of the CMS.
WordPress.com
WordPress.com is a hosting company that uses the WordPress content management system for all the blogs it hosts. Users who sign up for the service get their own blogs with a myblog.wordpress.com type of domain (however custom domains are also available as a paid feature). The default plan is free, though it comes with some limitations.
---